Disaster Relief Center

In times of crisis or disaster, the Combined Fund Drive (CFD) will post relevant information to help you support communities in need through contributions to verified nonprofits. Our goal is to provide you with information; this is not an endorsement of a particular charity. Our goal is to share relevant and accurate information.
The CFD defines crisis or disaster as a serious disruption that exceeds a community's or a region's capacity to cope using typical resources. Crises can be caused by natural and/or man-made hazards, as well as systemic factors that expose the vulnerability of a community or region.
The CFD is committed to maintaining a sustainable, coordinated channel for Washington state employees and retirees to confidently and efficiently direct their charitable giving in the event of a disaster or crisis. In accordance with WAC 434-750-310, in extraordinary circumstances the CFD is authorized to conduct special campaigns for disaster relief.
Middle East and Southwest Asia
Ongoing hostilities along the eastern Mediterranean have killed thousands and displaced over one million residents. In Southwest Asia, a series of large earthquakes ravaged the northwest region of Herat, Afghanistan, causing more than 1,300 deaths and disrupted the lives more than 4,200 residents. These international crises and the conflicts surrounding each have overwhelmed the ability of their communities to provide sufficient relief. Through the Combined Fund Drive, donations can help provide critical resources for humanitarian relief in these situations of extreme need.
How to Help:
Doctors without Borders (Charity Code:0315935) - As an independent and impartial humanitarian organization, MSF delivers emergency medical care where the needs for our expertise are greatest—regardless of race, ethnicity, religion, or politics.
Save the Children (Charity Code: 0315475) - Save the Children condemns the killing of civilians – especially children – in the strongest possible terms. Following the current escalation, we immediately dispersed $1M from our Children's Emergency Fund to urgently respond to children's needs.
Anera (Charity Code: 0315595)- Anera is delivering food and hygiene kits right now in Gaza, helping families displaced by the war.
Unicef (Charity Code: 0315489) UNICEF is on the ground in Gaza responding to the humanitarian crisis, while helping children most in need around the world.
Eastern Washington Wildfires:

Multiple wildfires ravaged communities in Eastern Washington as of noon on Friday, August 18th. The Gray fire prompted evacuations, burning through 10,800 acres by that Sunday morning, threatening the communities of Medical Lake and Four Lakes. The areas, less than 20 miles southwest of Spokane, have a combined population of more than 5,000.
How to Help:
American Red Cross Serving the Greater Inland Northwest (Charity Code:0315546) - The American Red Cross is aiding people impacted by multiple wildfires burning in Washington State. The Gray Fire near the city of Medical Lake and Oregon Road Fire near the community of Elk, WA have forced thousands to evacuate from their homes.
Salvation Army - Spokane Regional Services (Charity Code: 0316295) - Wildfires threaten the safety of our neighbors. Please help with a generous gift to provide food, water, shelter, and other support for families who've been evacuated and first responders.
Innovia Foundation (Charity Code: 2006507)- This emergency fund provides an opportunity for neighbors to help neighbors and provide resources that will be needed now and in the future as our communities recover from the impacts of these devastating fire.
Maui Wildfires: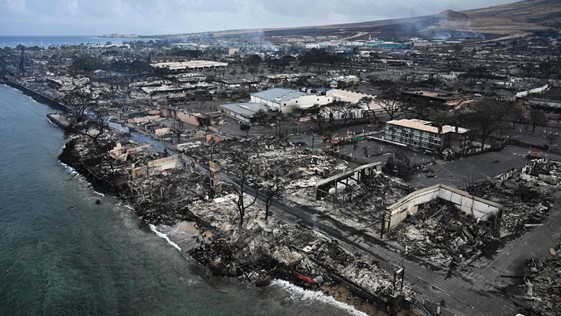 An image taken Thursday shows destroyed homes and buildings on the waterfront in Lahaina. (Photo by Patrick T.Fallon/AFP via Getty Images)
The catastrophic Maui wildfires have killed at least 97 people, officials say as of Friday, September 15th – a number expected to rise as they continue their search and rescue efforts throughout the decimation of neighborhood homes and buildings. The fires have destroyed the historic town of Lahaina, imperiling buildings, and landmarks important to Native Hawaiian culture. Deemed the deadliest U.S. wildfire in over 100 years, extreme efforts have been placed to aid survivors and continue search and rescue operations. Although the full scope of the fires' impact is still unknown, Hawaii's governor Josh Green estimates the damages "will be in the billions of dollars without a doubt."
How to Help:
Public: Please consider making a one-time gift through the following secure credit card link: https://give.wa.gov/events/?2023-maui-wildfire
State employees: consider making a one-time gift or setting up monthly payroll deduction through the CFD to one of our member organizations actively responding in the aftermath:
American Red Cross (Charity Code:0337346) - In partnership with the county government, trained Red Cross disaster workers have shelters open on Maui and Oahu. Since the fires began, the Red Cross and partners have provided more than 2,100 overnight shelter stays.
Direct Relief International (Charity Code:0316325) - Direct Relief mobilized resources and personnel, delivering essential medical supplies, hygiene products, and lifesaving equipment.They are working hand in hand with local healthcare providers and emergency response agencies, ensuring they have the supplies and support needed to care for the injured and those suffering from smoke-related health issues.
Operation USA (Charity Code:0456940) - Operation USA is committed to aiding the people of Hawaii with emergency grants as soon as possible. Donations to our relief efforts expand our capacity to get money into the hands of aid groups working directly in the hardest-hit communities.
Samaritan's Purse (Charity Code: 0315531) - North American Ministries assessment teams are on the ground in Hawaii to determine Samaritan's Purse relief response following deadly wildfires that swept through Maui this week. Billy Graham Rapid Response Team chaplains are also on the island to provide emotional support and spiritual comfort to residents reeling in the wake of so much loss.
Matthew 25: Ministries (Charity Code: 1479873) - Matthew 25: Ministries is shipping a container of essential supplies such as personal care kits, baby supplies, paper products, cleaning supplies, first aid and safety kits, personal protective equipment and more to areas impacted by the wildfires.
Americares (Charity Code: 0315518): Americares is preparing to deploy an emergency response team to help survivors of the deadly wildfires on the Hawaiian island of Maui. Upon arrival, the team will assess the needs of local health care facilities, coordinate emergency shipments of medicine and relief supplies and work with local and national organizations responding to the crisis.
Salvation Army USA (Charity Code:1478728) The Hawaiian and Pacific Islands division is providing food and emotional and spiritual care, and other critical services, to evacuees.
4 The Fallen (Charity Code: 1482603) -providing financial assistance to 8 Maui First Responders who have lost their homes during this tragedy. We are in contact with individuals working in the Lahaina area who are providing us with information of law enforcement, fire fighters, and medical personnel in need of support. We send 100% of the funds received to our recipients.
Archdiocese of Seattle (Charity Code:1478551) - providing necessary and basic needs for the people of Maui, such as housing, food, and other necessary supplies.
Parrots for Patriots (Charity Code: 2001368) - Helping out owners of exotic parrots get their birds to safety and boarding animals until rehomed
MEOW Cat Rescue (Charity Code: 0329999) - In communication with Maui Humane regarding the transfer of cats and dogs sheltered prior to the fire, to make room for disaster victims. This is currently still a fluid situation, so we are not certain when or how many we will receive. We are also sending equipment, such as wire crates and humane traps to Maui.
Non-CFD organizations helping wildfire-affected communities:
Before giving to these organizations, Please note the following:
- Charities listed below are not currently vetted and registered with the CFD, but we have reached out and invited them to join the CFD based on staff recommendations.
- If you choose to give to charity not registered with the CFD like the ones below, please note, you must do so directly, on your own time, using your personal technology.
- Thank you for staying in alignment with WAC and policy, which notes the only charitable giving allowed on state time using state resources is through the CFD.
-The CFD was established to provide you with a safe and secure way to give to organizations registered as 501c3 charities with the Secretary of State's Office. This ensures your protection from scams, and although we have no reason to believe the charities below are anything less than legitimate, we want you to know they are not officially part of the CFD yet.
Hawai'i Community Foundation is accepting donations through its Maui Strong Fund. The foundation has already raised $1 million to help fire victims. To donate, visit the fund's website.
Maui United Way is providing direct relief to families and nonprofits directly affected by the Maui wildfires.
World Central Kitchen -provides meals to people in need by partnering with local organizations.
Mercy Chefs -a leading provider of hot meals and relief for those facing disaster, has deployed and we are serving meals to victims and emergency workers.
Maui Humane Society is providing emergency kits and pet supplies to displaced pet owners and caring for injured animals.
Pacific Whale Foundation - PWF 'Ohana Relief Fund - Our first priority is to provide immediate support for those who don't have access to basic amenities.